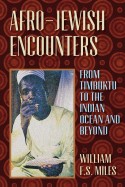 "I've always thought of Africa, which I have studied and traveled in, as ultimately unknowable in its vastness and diversity. Through a Jewish lens, Miles manages to reveal its Semitic skeleton, old and new, providing a fresh way of seeing the continent's historical, sociological, and political permutations." —Nadine Epstein, editor and publisher, Moment Magazine
A Muslim curator and archivist who preserves in his native Timbuktu the memory of its rabbi.  An evangelical Kenyan who is amazed to meet a living "Israelite."  Indian Ocean islanders who maintain the Jewish cemetery of escapees from Nazi Germany.  These are just a few of the encounters the author shares from his sojourns and fieldwork spanning thirty-five years in sub-Saharan Africa, the Indian Ocean, the West Indies, and the Holy Land.  In this collection of new and revised essays, with a foreword by Professor Ali A. Mazrui, William Miles vividly illustrates how Africa, Israel, and their diasporas constitute an extraordinary crucible for African Jews, wandering Jews, and the unforgettable Afro-Jewish encounters that ensue.
Combining  the rigors of academic research with a "you are there" delivery, this book is suitable for introductory courses on Africa, ethnography, Jewish studies, and religious studies, as well as for the reading pleasure of the ecumenical-minded traveler.